EIN Presswire | Newsmatics
Minnesota Attorney and Congressional Candidate Sarah Gad Unveils Detailed Plan to Bring Real Change to the 5th District
News provided by
EIN Presswire
Sep 18, 2023, 3:27 PM ET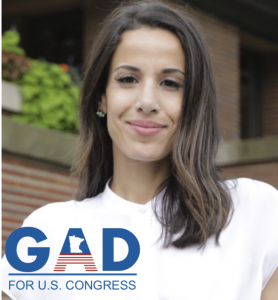 Hope Has a Plan: Minnesota Attorney Sarah Gad Launches Website with Detailed Plan to Bring Real Representation to Minneapolis in Challenge to Rep. Ilhan Omar
MINNEAPOLIS, MINNESOTA, UNITED STATES, September 18, 2023/EINPresswire.com/ -- Today, Democrat Sarah Gad launched  her official campaign website www.sarahgad2024.com, where she outlines a detailed policy agenda and her visionary blueprint for the Fifth District, embodying her campaign tagline: "Change rooted in hope. And driven by a plan."
Gad began her campaign in July, filing with the FEC. Immediately, her campaign attracted national attention as a serious challenge to incumbent Rep. Ilhan Omar, who narrowly escaped a primary challenge against in 2022.
Gad, a Minnesota native and distinguished attorney has rooted her campaign in community service. Hearing from neighbors across Minneapolis who have been neglected by the lack of responsiveness and constituent services from Rep. Omar that mirror her own experience propelled Gad to launch her campaign. Sarah believes that we achieve more by working together - not against.
Read Gad's full plan at www.sarahgad2024.com
From Defendant to Defender: A Remarkable Journey
Sarah Gad's story is a living testament to the power of resilience and the potential that lies in every individual. In 2012, a life-altering car accident led Sarah, then immersed in her third year of medical studies, into a battle with opioid addiction and a criminal justice system that often defines individuals by their darkest hours. But Sarah refused to let her circumstances define her and redirected her life towards becoming an attorney. In 2020, she graduated from the University of Chicago Law School—the third best in the nation, with alumni that include Senator Amy Klobuchar and former FBI Director James Comey. While in law school, she earned the prestigious University of Chicago Humanitarian Award for her pro bono legal work and opioid crisis advocacy.
A Record of Success and Advocacy
Upon graduating from law school, Sarah immediately returned home to Minnesota, where she established her own law practice, advocating for individuals caught in the same legal system that once ensnared her. Sarah's legal acumen has not only transformed lives but has also earned her a spot on the prestigious "Top Ten under 40" list by the National Academy of Criminal Defense Lawyers. This recognition, within less than a year of becoming licensed to practice, speaks volumes about her commitment to justice and her remarkable skill in the courtroom.
A Passion for Justice and Advocacy
In 2020,  Sarah founded Addiction 2 Action, a non-profit focused on enhancing access to opioid addiction treatment within jails and prisons. This crucial first step moves us towards reforming a criminal justice system that often fails those it encounters. Through her nationwide talks at medical schools and hospitals, Sarah empowers healthcare professionals to actively combat the opioid crisis, fostering a community where empathy meets action.
Sarah's story is a rallying cry for a society where every individual is granted a fair chance. In a landscape where systemic barriers often deny many a first chance, Sarah emerges as a beacon of hope and transformative change. Her campaign is about more than elected office - but a drive to dismantle the barriers that inhibit individuals from flourishing from the outset, whether in education, healthcare, or the job market. Sarah's policies envision a society where first chances are a fundamental right, not a privilege, and where second chances are a reflection of human resilience and compassion.
A Brighter Future Founded on Resilience, Compassion, and Justice
"Throughout my journey, I have witnessed firsthand the deed2024.com.
About Sarah Gad  
Sarah Gad is a passionate attorney, advocate, and the promising congressional candidate for Minnesota's Fifth District. Raised in Minnesota by Egyptian immigrant parents, Sarah has triumphed over formidable challenges to emerge as a stalwart champion for systemic change. As she contends for a congressional seat, Sarah commits to representing her constituents with steadfast integrity and compassion, amplifying their voices in the corridors of Washington, D.C.
D. Deseranno
Sarah Gad for U.S. Congress
+1 612-460-1295
email us here
Visit us on social media:
Twitter
Instagram
NOTE: This content is not written by or endorsed by "WOWK", its advertisers, or Nexstar Media Inc.
For inquiries or corrections to Press Releases, please reach out to EIN Presswire.