EIN Presswire | Newsmatics
New Study: 1 in 2 Hybrid and Remote Employees Unhappy with Policy, Schedule, and Support
News provided by
EIN Presswire
Sep 19, 2023, 1:28 AM ET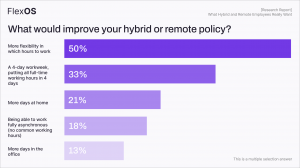 Employees were asked "What Would Improve Your Current Hybrid or Remote Policy?" For 50%, it's more flexible working hours. A 4-day workweek and fully asynchronous work are also popular.
It's not just about where we work but also when and how we work that matters. A new study spotlights hybrid and remote employees' preferences and challenges.
This research shows that while people have adjusted to working from home, managers and companies must catch up. Many best practices are far from commonplace, and a more concerted effort is necessary."
— Daan van Rossum, CEO, FlexOS
NEW YORK, USA, September 19, 2023/
EINPresswire.com
/ -- In just a few years, the way we work has changed completely. But are hybrid and remote models working for us? "
What Hybrid and Remote Employees Really Want
," a new research study, showcases what employees like and where they are looking for improvements.
KEY FINDINGS OF THE STUDY
- 50% of all employees practicing remote or
hybrid remote work
believe that more flexible time to work can improve their remote or hybrid policy. Even people who almost always work in-office would like more flexibility in when to work (48%).
- 30% of hybrid employees want more in-office days. But just as many people want more work-from-home days, highlighting that the office days remain a contention.
- Employees rate their managers a meager 7 out of 10 on their success in effectively managing their hybrid or remote teams. Employees also rate their manager poorly on hybrid and remote work best practices.
- 33% of employees want their companies to provide better remote technology and infrastructure support and offer a budget to set up ergonomic home workspaces.
-43% of employees would consider quitting if requested to be in-office full-time. 23% wouldn't be happy but still return to the office. Only 34% of respondents would happily return to the office.
KEY INSIGHTS
Autonomy in When and Where to Work:
The research demonstrates that employees want more autonomy. While the "where" of hybrid and remote work has largely settled at two to three days in the office per week, 50% of respondents desire more flexible working hours, and 18% even want fully
asynchronous work
. One in three employees fancies a 4-day workweek.
Renegotiating Office Days:
A one-size-fits-all approach doesn't work: while 21% of respondents want fewer office days, 13% seek more in-person days. Even amongst almost and fully remote employees, 10% want more in-office days, underscoring the importance of accommodating varying employee needs.
The Crucial Role of Managers – and The Gaps in Ability:
Employees rate their managers a meager 7 out of 10 for their effectiveness in managing remote teams. Nearly half of respondents feel their managers fall short in applying best practices such as clear communication, inclusion, and recognition. Effective management remains a critical area for enhancement.
Addressing Technological Challenges:
Technological hurdles hinder the productivity of hybrid and remote employees and increase inequality. Respondents want better remote technology support, ergonomic home workspaces, and stipends to cover internet expenses. Clear communication guidelines and knowledge-sharing platforms are essential tools for enhancing remote collaboration.
The Resilience of Hybrid Work:
43% of respondents would contemplate leaving their jobs if required to return to the office full-time, almost three times as much as the hybrid and remote managers we surveyed in June. The anti-RTO sentiment prevails even among those in the office four days a week, underscoring the value employees place on even the smallest amount of flexibility.
QUOTES
"The data shows that the typical employee wants a moderate hybrid plan. Managers seeing this should focus on making hybrid successful rather than battling for a full office return, which this data suggests could lead to mass quits." Nick Bloom, Stanford Professor and World's Leading WFH Researcher
"For many companies, the promises to distributed teams of quarterly gatherings were dashed when companies pulled back on travel budgets -- digital-first shouldn't mean never in person." – Brian Elliott, co-founder of Future Forum.
"The growing popularity of a 4-day workweek is merely the tip of the iceberg, and the integration of AI technologies could very well propel us toward a 3-day workweek—or even less. As AI takes over routine tasks, the emphasis shifts toward strategic, meaningful work, potentially condensing the effective workweek even further." – Iwo Szapar, Co-founder & Head of Remote, Remote-first.Institute
About the Study:
FlexOS conducted the research in August 2023 and involved 200 hybrid and remote employees in the USA across ages, seniorities, and industries. It's available on:
https://www.flexos.work/what-hybrid-employees-really-want-study
.
About FlexOS:
Founded in 2021, FlexOS addresses the challenges of hybrid and remote work. With a $1 million seed round from investors in PayPal and Dropbox, its mission is to make the world of work a better place by letting people take agency and autonomy in their work.
Daan van Rossum
FlexOS
email us here
NOTE: This content is not written by or endorsed by "WOWK", its advertisers, or Nexstar Media Inc.
For inquiries or corrections to Press Releases, please reach out to EIN Presswire.