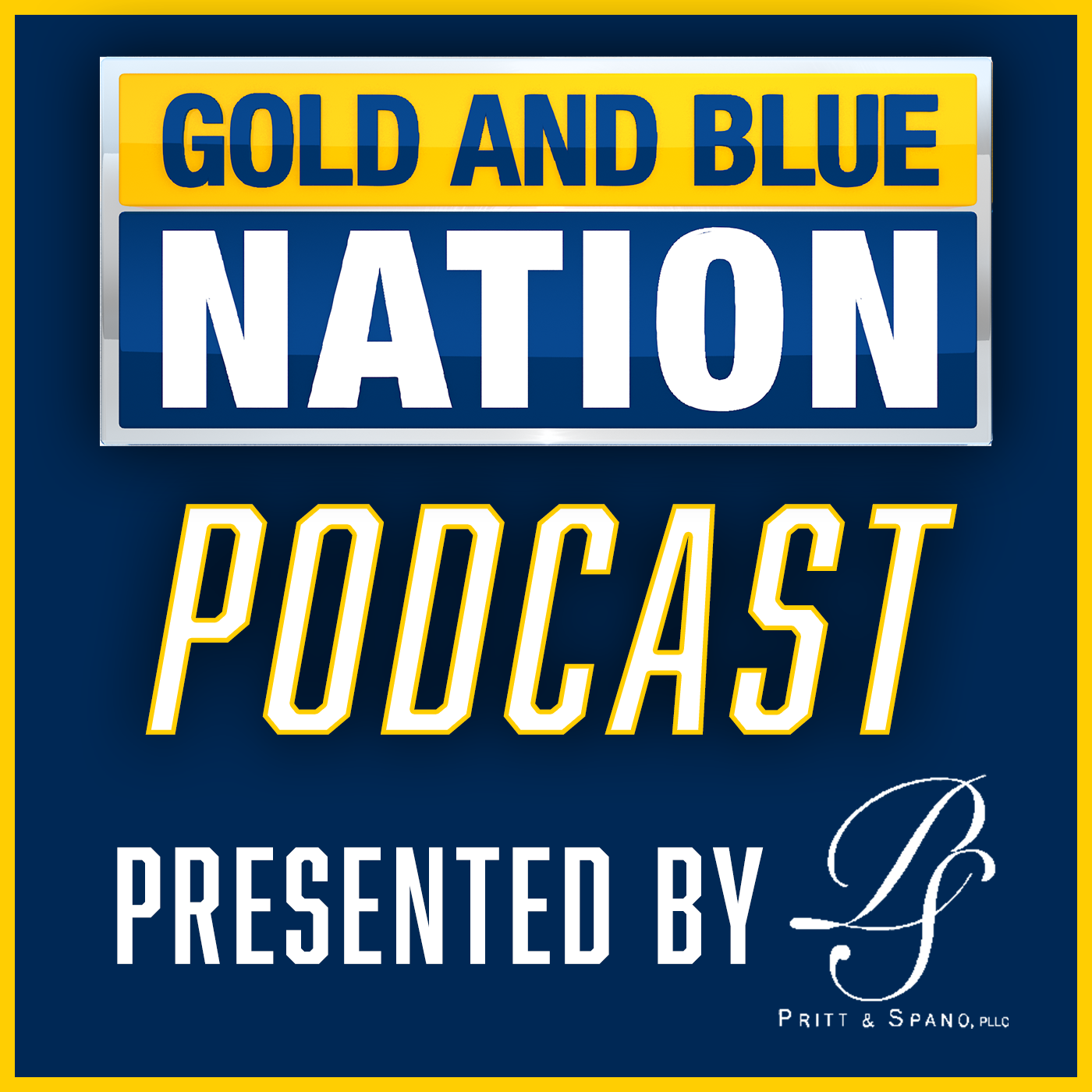 Spring football is in the books at WVU following the Gold-Blue Game. Hosts Nick Farrell and Anjelica Trinone share their takeaways and top performers from the annual spring scrimmage. 
MORGANTOWN, W.Va. — West Virginia's 15th and final spring practice is in the books.
The Gold Team defeated the Blue Team 56-51 Saturday at the 2023 Gold-Blue Game, and after the spring scrimmage, which featured both live game action and one-on-one competitions, head coach Neal Brown shared his thoughts on the top performers of the day:
Quarterbacks
As always, the quarterbacks were watched closely during the scrimmage. Both junior Garrett Greene and redshirt freshman Nicco Marchiol played well into the third quarter of Saturday's scrimmage.
Greene completed 8 of 11 passes for 156 yards and a touchdown. He hit Cortez Braham for his lone touchdown pass, a 40-yard catch and run.
The Florida native also logged a receiving touchdown — the first offensive score of the game — on a wide receiver reverse pass from Preston Fox. That catch and run was also good for a 40-yard score.
Marchiol went 6-for-12 for 58 yards.
"I thought Nicco threw two really nice deep balls, and our receivers didn't play the ball very well," Brown said. "Without having a chance to watch it, it's hard to tell."
Brown added that he thought the offensive line protected Greene better than Marchiol, and that it's hard to evaluate both quarterbacks, each of whom are dual-threat players, in a scrimmage.
The quarterback competition will continue through fall camp.
"Regardless of what happened today, or what happened through the first 15 [practices], this is a deal…that's gonna go through the summer and into fall camp before we figure it out," Brown said.
Other offensive standouts
Brown thought transfer tight end Kole Taylor made the play of the game with a one-handed snag over the middle in the first half. Taylor, the former LSU Tiger, caught three balls for 36 yards, and is a player who has received regular praise from the coaching staff this spring.
Brown also highlighted two wide receivers.
Transfer receiver Devin Carter, who joined the Mountaineers from N.C. State this offseason, logged three receptions and a game-high 77 receiving yards. His longest catch of the day went for 54 yards and set up a score for the Gold Team.
"That's kinda what he's been doing," Brown said.
Brown also liked what he saw from Jeremiah Aaron, a wide receiver who is entering his second season at WVU. Aaron caught one pass for 18 yards.
"Jeremiah Aaron made a couple nice plays. [He's] somebody we really need to take another step, so that was good to see," Brown said.
The head coach also complimented the team's four returning running backs: Tony Mathis, CJ Donaldson, Justin Johnson and Jaylen Anderson. Donaldson scored a touchdown in the first half.
But on the day, true freshman Jahiem White led all participants with 91 rushing yards, including a 53-yard scoring scamper in the second half. Brown noted that he thinks White is already a "fan favorite" following his performance in the spring game.
Defensive standouts
Throughout the spring, Brown and defensive coordinator Jordan Lesley have been highly complimentary of linebacker Lee Kpogba. The team's leading tackler in 2022 has greatly improved this offseason, according to those coaches.
In Brown's eyes, Kpogba was one of the top defensive performers of the spring game. He registered four tackles and sack — but might have had multiple sacks in a true game setting.
"I thought Lee Kpogba was physical in the run game early. Probably would have had two sacks if the quarterbacks were live. I thought he showed up," Brown said.
Fellow linebacker Jairo Faverus led the Blue Team with six total tackles.
"I thought he made a couple nice plays," Brown said.
The head coach added he thought the defense covered the deep ball well. Defensive backs Montre Miller, Malachi Ruffin and Jaylon Shelton each recorded a pass breakup in the game.
Award Winners
Four athletes were honored as Iron Mountaineers: Mathis, bandit Jared Bartlett, defensive back Marcis Floyd and offensive lineman Doug Nester. Iron Mountaineers are the players who lead the team during the offseason strength and conditioning program.
Redshirt sophomore wide receiver C.J. Cole was also tapped as the winner of the Tommy Nickolich Award. That award is given annually to the program's top walk-on.
Cole is the first Pennsylvania native to win the Nickolich Award since Osman Kamara in 2020.