Welcome to Week 3 of the Power Rankings. We'll get into this down below, but while we always have a blowout week in the NFL, there's never been one quite like this. I think the line of demarcation between legitimate title contender and average to below-average team has never been more pronounced. Normally, you'd say there are 8–10 teams with a chance of winning the Super Bowl every year.
At this moment? I'd say there are five or six. The beauty of the somewhat long season is that teams are going to trend upward later in the year, but with Caleb Williams and Drake Maye on the horizon, I wonder how many will care to. There is no value in being mediocre this year unless you are a franchise with a developing quarterback already on the roster whom you want to hang onto regardless.
Is your team one of the good ones? Let's dive in and find out. 
1. Miami Dolphins (3–0)
Last week: win vs. Denver, 70–20
Next week: at Buffalo
The Dolphins scored 70 points without Jaylen Waddle. Think about that. Say it to yourself out loud, in the mirror. It was a complete dress-down humiliation of an opponent. The Dolphins were scoring at will. This is such a multi-level confidence booster, and you can see Tua Tagovailoa developing into a surefire franchise quarterback. Mike McDaniel has artfully emboldened a quarterback who many, self included, wrote off a long time ago. I'm sorry to every other franchise, but if you score 70 points in a week, you get to be No. 1.
2. San Francisco 49ers (3–0)
Last week: win vs. New York Giants, 30–12
Next week: vs. Arizona
This 49ers game vs. the Giants provided a perfect encapsulation of the week: there are 5–8 really good teams in the NFL. There are 5–8 really bad teams in the NFL and somewhere between 16–22 milquetoast franchises, a few of which will make the playoffs. This is so reminiscent of the college game right now. San Francisco is vintage Saban Alabama, missing only the championships. The scary part is that we have not seen almost anything that would classify as an evolution out of San Francisco yet, and you know they have something cooking for when games get tough.
3. Kansas City Chiefs (2–1)
Last week: win vs. Chicago, 41–10
Next week: at New York Jets
I'm kind of tired of the entire Chiefs narrative within the greater football media world. One understandably poor performance yields some kind of attention-seeking criticism, which then prompts us to come back around and pretend that the attention-seekers who dared doubt the greatness of Patrick Mahomes were sorely mistaken. It's silly. Kansas City is great. They're probably going to be in the Super Bowl this year. The only reasons they aren't No. 1 in the power rankings every week? One, because we are probably captivated on a moment by moment basis in seeing new teams win in different ways. Two, because we are numbed to how good this team has been consistently.
4. Buffalo Bills (2–1)
Last week: win at Washington, 37–3
Next week: vs. Miami
Second in points, second in points surrendered. Sixth in first downs picked up, second in (fewest) first downs allowed. The Bills are gearing up to possibly give us the Super Bowl run we had expected a year later than we thought. While it's early, Josh Allen's poor throw percentage, according to Pro Football Reference, is about half of what it's been in previous seasons. He seems a little unburdened back there, and has been punching the gas over the previous two weeks.
5. Philadelphia Eagles (3–0)
Last week: win at Tampa Bay, 25–11
Next week: vs. Washington
The last two weeks, this running game has looked beyond vicious. At some point, a team will disallow D'Andre Swift from gaining almost 10 yards per carry, but until then, there is really no reason for the Eagles to abandon the tank-sized clearings they are making at the beginning of each snap. Jalen Hurts won't finish the season with a negative EPA per play, but it's worth watching for when the tide turns on the Eagles this year and the quarterback must shoulder a handful of victories.
6. Dallas Cowboys (2–1)
Last week: loss at Arizona, 28–16
Next week: vs. New England
I think this game was instructive in how Micah Parsons's strengths can be used against him. Especially early, the Cardinals were able to manipulate him via zone read, or simply allow him to crash the edges and set the run game outside of the vacant spaces he created. While I wouldn't call it a blueprint, this was the kind of harmless wake-up call Dallas needed early in the season. Their upcoming slate is brutal, and contains little to no Zach Wilson.
7. Cleveland Browns (2–1)
Last week: win vs. Tennessee, 27–3
Next week: vs. Baltimore
Jim Schwartz's defense has been lights out through three weeks. If the Browns were to get even slightly above replacement level play at the quarterback position over the course of this year, they could win the division. While the Browns will miss Nick Chubb from a humanity standpoint more than anything, and the greater impact of that will not be revealed over the course of the season, they are a talented team with a very high ceiling. Deshaun Watson is currently 22nd in the NFL in EPA per play, behind Josh Dobbs, Andy Dalton and Mac Jones, among others.
8. Detroit Lions (2–1)
Last week: win vs. Atlanta, 20–6
Next week: at Green Bay
Jared Goff's throw to Amon-Ra St. Brown before the half was a thing of beauty, and emblematic of the fact that he's a legitimate top-10 passer in this league. The Lions' pass rush came alive against a shaky and, surprisingly, not overschemed Desmond Ridder. While Goff's fourth quarter interception was costly, Dan Campbell could finally lean on a situation where his defense could provide the counter punch.
9. Baltimore Ravens (2–1)
Last week: loss vs. Indianapolis, 22–19
Next week: at Cleveland
I loved the Ravens' defensive plan going into this game. Kyle Hamilton was unleashed off the edge and proved himself to be an apt situational rusher. He already has more sacks in 2023 than he did a year ago. There were a few plays, like the Zack Moss touchdown catch, that I don't think the opposition is going to replicate if the game is played a second time under similar circumstances. It's a long way of saying I really love what I'm seeing from this team. The offense has home run wrinkles nestled inside a scheme that can still frustratingly draw out a defense if needed.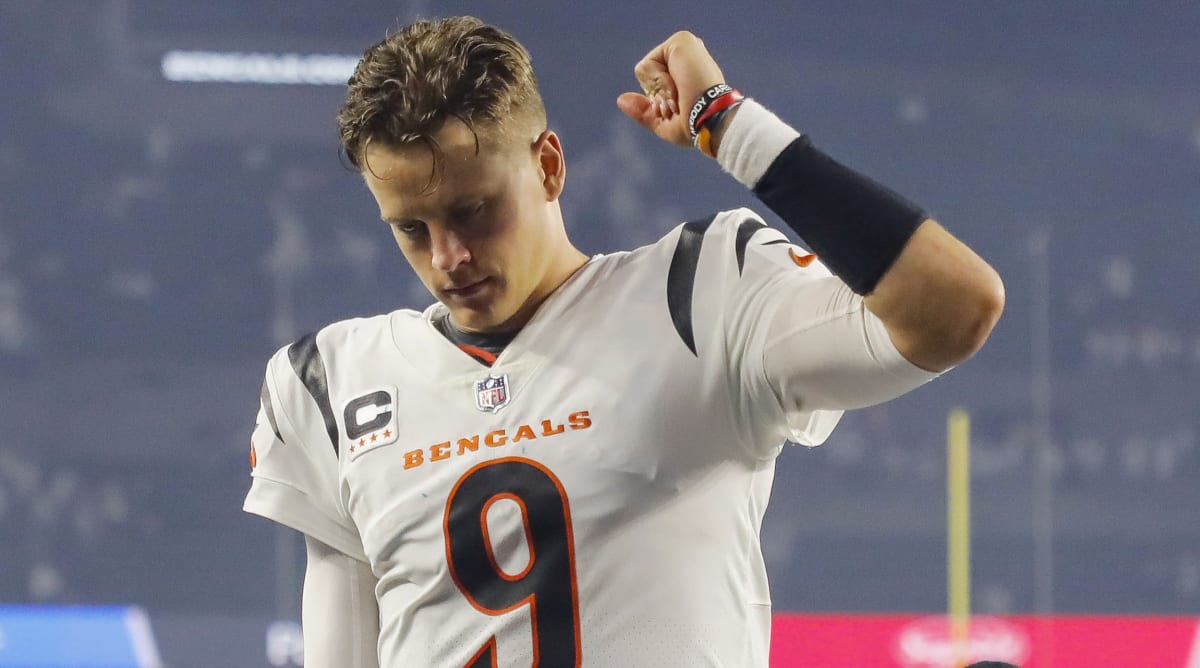 10. Cincinnati Bengals (1–2)
Last week: win vs. Los Angeles Rams, 19–16
Next week: at Tennessee
I think we're in a place where we can say that maybe Joe Burrow shouldn't have started this season, but also that he's going to keep playing and that we need to accept him at 50 to 60 percent efficacy. When the Bengals play a stationary quarterback like they did Monday and can activate peak Trey Hendrickson down the stretch, they can do enough to win. Still, I think that in a cleated sport, where footwear offers a particularly hard landing, Burrow is going to struggle to completely rehab himself over the course of a season, at least until Cincinnati's bye in Week 7.
11. Seattle Seahawks (2–1)
Last week: win vs. Carolina, 37–27
Next week: at New York Giants
The Seahawks are always going to flirt with inferior opponents more than they should, but that shouldn't negate the awesomeness of how Shane Waldron's offense turned it on in the second half against Carolina. Geno Smith looked vintage West Virginia from a spread set, manipulating the Panthers' defense and slicing them open to allow for some easy middle-field completions. This team is deep enough to reach a conference championship.
12. Jacksonville Jaguars (1–2)
Last week: loss vs. Houston, 37–17
Next week: vs. Atlanta
This may be a hot take but I think in any other week, against any other team, the Jaguars recover a fumble on that third quarter kickoff and tie the game a few plays later. This week? The Texans' fullback somehow backs himself into a returner who was supposed to have waved him off and he rumbles it in for a touchdown. That said, the Jaguars are hitting their slump early. This has been a poor last two weeks for Jacksonville, mostly because they are somehow not connecting on the big throws, and not doing a great job of scheming up the easy ones right now.
13. Atlanta Falcons (2–1)
Last week: loss at Detroit, 20–6
Next week: at Jacksonville
We have now seen what this team looks like when its lead back is averaging fewer than four yards per carry and it's not great … at least not yet. I thought that a seven-sack game for Desmond Ridder was surprisingly valuable in that, this was the most times he's ever been asked to throw in an NFL game. The only time you can learn how to navigate a "we need to chuck it" football game is to play in a few "we need to chuck it" football games. This one, against the Lions in Detroit, was a graduate level course in what to do and what not to do.
14. Green Bay Packers (2–1)
Last week: win vs. New Orleans, 18–17
Next week: vs. Detroit
While Jordan Love had to matador Demario Davis at the goal line to get in, look at how wide open his zone read opportunity was on the Packers' first offensive touchdown of the game. I'm not saying that Love is going to be a running quarterback, but the dynamics of the offense have changed since the Aaron Rodgers takeover. I think we'll see more exploiting of that as the season goes on. His two-point conversion completion was one of the best pieces of pocket movement I've seen all season.
15. Los Angeles Chargers (1–2)
Last week: win at Minnesota, 28–24
Next week: vs. Las Vegas
I don't think it's a secret that the Chargers avoided a special kind of hell against the Vikings. I credit Brandon Staley for not abandoning common sense fourth-down decisions, even if the octogenarians on Fox NFL Sunday will tell you it shouldn't be. His defense is slowly getting better situationally. I could easily see this team, with or without Mike Williams and Austin Ekeler, ripping off a long-ish winning streak.
16. New Orleans Saints (2–1)
Last week: loss at Green Bay, 18–17
Next week: vs. Tampa Bay
Losing Derek Carr and then losing to the Packers was a difficult blow for a Saints team that started the season so well. Jameis Winston against his former team will be an intriguing matchup but also an important game for them to steal if Carr is, indeed, on a week-to-week prognosis. After Tampa Bay come the Patriots and Texans—two teams on the level of New Orleans, but two teams who are in no way significantly better than New Orleans. 5–1 is a real possibility.
17. Los Angeles Rams (1–2)
Last week: loss at Cincinnati, 19–16
Next week: at Indianapolis
After a Week 1 victory over the Seahawks, we've seen the Rams offense recede a bit. A 92-yard performance on the ground in Week 1 winnowed to 89 in Week 2 and 71 on Monday. At times, it seems like Matt Stafford and Sean McVay are leaning a bit too hard on what was successful, and not the evolutions they installed that helped them log a win over Seattle in the opener. That said, 1–2 after three weeks when facing the Bengals, Seahawks and 49ers is not a worst-case scenario at all. The Rams' schedule never really lets up, but opens up a week from now with a game against the Colts.
18. Pittsburgh Steelers (2–1)
Last week: win at Las Vegas, 23–18
Next week: at Houston
Give the Steelers a six-point lead and it feels insurmountable. Mike Tomlin keeps finding ways to get himself into Mike Tomlin games. Kenny Pickett looked great on the move, per usual, and we saw Pittsburgh starting to create some lighter boxes for the shifty Jaylen Warren to knife through. If Pickett can get himself up a level at some point this season—and, with these receivers, I think he will—look out.
19. Indianapolis Colts (2–1)
Last week: win at Baltimore, 22–19
Next week: vs. Los Angeles Rams
Just a beautifully designed offense in combination with a team that is seemingly unafraid. Shane Steichen, at every stop, has maximized his personnel. We're seeing that now in Indy where a sort of patchwork group of players was smushed together and who now look like they have a purpose. Defensively, the Colts also stepped to the plate. Big tackles from the likes of E.J. Speed, among others, stifled critical drives.
20. Tampa Bay Buccaneers (2–1)
Last week: loss vs. Philadelphia, 25–11
Next week: at New Orleans
A bit of a return to reality for the Buccaneers, who are going to be the next of many middling teams to get pummeled by this Eagles offensive line. I don't think it necessarily means their 2–0 start was a fluke but … their 2–0 start was against the Bears and the Vikings, who have zero combined wins. Next week, against a very good defensive team (and perhaps Jameis Winston!) we'll get a better look at their ability to tread water this year and remain in the divisional race conversation.
21. Tennessee Titans (1–2)
Last week: loss at Cleveland, 27–3
Next week: vs. Cincinnati
I thought the Titans had multiple opportunities to get back into the game against Cleveland on Sunday, well into the third quarter. The problem was a lack of quick-release opportunities for Ryan Tannehill, which left him so vulnerable to that torturous Cleveland defense. Ultimately, Tennessee will always be a weaker team when playing from deep deficits and against teams who can capitalize on Tannehill's lack of mobility. Tannehill is on pace for the highest sack percentage of his career.
22. New England Patriots (1–2)
Last week: win at New York Jets, 15–10
Next week: at Dallas
The Patriots beat the Jets in a way they seem to have developed a fetish for, which is holding their palm against New York's forehead and laughing as they try to advance and attack. These are rarely high-scoring affairs, which means we learn little about the progress of New England's offense. Still, the Patriots avoid a critical 0–3 hole and springboard into a fascinating game against the potentially vulnerable Dallas Cowboys.
23. New York Giants (1–2)
Last week: loss at San Francisco, 30–12
Next week: vs. Seattle
I do give the Giants credit for staying true to their defensive identity and bringing the house against Brock Purdy on their first drive to force a field goal. It showed, in glimpses, the ways in which they have been able to be at least slightly effective given their extreme personnel disadvantage against teams like the 49ers. But, this offense was never ever going to hold up against San Francisco long enough for the Giants to make Thursday's contest a real game.
24. New York Jets (1–2)
Last week: loss vs. New England, 15–10
Next week: vs. Kansas City
At this point, I think the only thing we could fault the Jets for in hindsight is not accounting for an Aaron Rodgers injury. This is not a fair finger for me to point personally, as I was all in on the idea of rehabbing Zach Wilson alongside Aaron Rodgers. While I'm about a week behind everyone else calling for Wilson's dismissal, it is highly unlikely that the Jets can continue to sell Wilson as a starter on a week-to-week basis.
25. Houston Texans (1–2)
Last week: win at Jacksonville, 37–17
Next week: vs. Pittsburgh
The level of competence displayed by C.J. Stroud and confidence in him displayed by the Texans over the last two weeks has been nothing short of incredible. Either Stroud is an incredibly fast learner, or he was faking his distress in the preseason. Seriously, how do you go from that Patriots game to launching a perfectly placed table-setting deep shot against the Jaguars on the opening drive? Stroud is also making great throws with bodies closing in on him. As he grows into his frame, he's going to become a powerful, play-extending force.
26. Las Vegas Raiders (1–2)
Last week: loss vs. Pittsburgh, 23–18
Next week: at Los Angeles Chargers
Davante Adams had a not-so-strong endorsement of the Josh McDaniels tenure in Las Vegas. Before he walks it back and insists it was taken out of context, let's say what everyone else is thinking: the Raiders have about one more week to turn it around before we're begging them to trade their star wide receiver. Being bad in the NFL is tough, being bad in the AFC West is even tougher. Las Vegas always seems to look good offensively on their first few drives before the realities of their situation—they can't tackle well, they can't win a fistfight and they're painfully vulnerable almost everywhere on defense from a personnel standpoint—set in. Now, the QB is out for an indefinite period of time. Good luck.
27. Washington Commanders (2–1)
Last week: loss vs. Buffalo, 27–3
Next week: at Philadelphia
I think there's a world where Sam Howell's end of first quarter drive against the Bills goes a different way and we're talking about a non-blowout. He was hurling some darts into the core of Buffalo's defense. That said, it's impossible to draw too much from a bottom-tier team getting boat raced by Josh Allen on a heater. That's going to happen to 20 different teams on this given Sunday in the same place.
28. Carolina Panthers (0–3)
Last week: loss at Seattle, 37–27
Next week: vs. Minnesota
The Panthers were never really close to the Seahawks again after a third-quarter missed field goal (there were many times I thought Andy Dalton had been plastered into next week, thus necessitating the need for a third-string quarterback). The real focus for this team right now should be in keeping Bryce Young healthy and in finding ways to be creative with max protect scenarios. It sounds unsexy, but this Panthers season is utterly worthless without a notable rise out of Young in his first year.
29. Minnesota Vikings (0–3)
Last week: loss vs. Los Angeles Chargers, 28–24
Next week: at Carolina
The Kirk Cousins trade watch is on. At 0–3, the Vikings should be in strategic freefall for their next quarterback option. Cousins's value is never going to be higher than it is right now, just a few weeks before the deadline, with the Jets absolutely in need of a top-line starter and another few teams in need of a high-end backup that may be interested in keeping Cousins out of New York.
30. Denver Broncos (0–3)
Last week: loss at Miami, 70–20
Next week: at Chicago
We had our fun with Sean Payton after Sunday's loss, but the question now is: what happens next? The Broncos and the Bears are facing off next week in a game that both teams need to optically rescue their season. The loser of this game is in the pole position for the Caleb Williams sweepstakes, which is worth considering in and of itself. My guess—after hearing Albert Breer mention it on our podcast—is that Payton pivots his early-season confidence into the desire for a teardown and rebuild. When your best offensive lineman is spilling his guts after Week 3 about the losing atmosphere, it may be time to hunt for players who don't see it coming.
Arizona Cardinals (1–2)
Last week: win vs. Dallas, 28–16
Next week: at San Francisco
The Cardinals are a top-10 team in both turnovers caused and rushing, which is a defensive head coach's fever dream scenario. Through three games, Jonathan Gannon has been beyond advertised, since he wasn't very well advertised to begin with. Joshua Dobbs, at age 28, is legitimately playing his way into a bridge starting role for a team in 2024 a la Geno Smith.
Chicago Bears (0–3)
Last week: loss at Kansas City, 41–10
Next week: vs. Denver
The Bears are circling a crisis, and I outlined Sunday how incredibly difficult it is for Matt Eberflus to do anything about it. Here's a thought I didn't get to express then but have fostered throughout the day today: Regardless of what Justin Fields meant when he addressed the team's coaching staff at his press conference, it undoubtedly alerted him to how powerful his words are. This Bears team needs support leadership as their coach has to supplant the absence of his defensive coordinator. That would be a good time to hear from the franchise quarterback.