There's only one big game on Sunday, so that means we need to build a DFS showdown slate for Super Bowl LVII!
For the showdown slate, we first need to pick a captain or MVP. The Captain or MVP spot gets a multiplier on points scored, but you will also pay a premium salary. Popular choices for this spot will of course be Patrick Mahomes, Jalen Hurts and Travis Kelce. For cash games with friends or head-to-head matchups, this makes a lot of sense. If you're playing in a large tournament, however, you may want to consider going more contrarian in this spot. The more you can differentiate your lineup, the more of the pot you can take home if you build a winning lineup.
For showdown slates we also do not have to pay any attention to position. Simply choose the five or six best players that you can roster for the salary-cap. And yes, that may even include a kicker!
The Chiefs and Eagles kick off Sunday at 6:30 p.m. ET, and the game total is currently set at 50.5 at SI Sportsbook with the Eagles favored by a slim 1.5 points.
Spend-Up Options
QB Jalen Hurts, Eagles: What more is there to say about Hurts? He's both a running and a passing threat, and the Chiefs allowed the fifth-most DFS points to opposing QBs this season. Hurts was the highest-scoring QB on a per-game basis this year for DFS.
QB Patrick Mahomes, Chiefs: Hurts was the highest-scoring QB, but Mahomes was the third-highest scoring QB. Yes, he's a bit hobbled. Yes, the Philadelphia defense is the best in the league vs. the pass, but Mahomes led the league in passing yards (5,250) and passing TDs (41) and, well, he's Patrick-freaking-Mahomes.
TE Travis Kelce, Chiefs: By now you've heard all the stats about Kelce. He has the second-most receiving TDs and the second-most receiving yards in postseason history. He gained 78.7 yards per game during the regular season and commanded a 31.9% target share for the Chiefs this year. Mahomes connected with Kelce for a team-high 15 touchdowns this season.
WR DeVonta Smith, Eagles: DeVonta Smith has fared better than A.J. Brown in the postseason with an average of 48.5 receiving yards per game, a 27.1% target share and 33.8% of the air yards. During the regular season he averaged 5.6 catches per game, and he has one postseason TD.
WR A.J. Brown, Eagles: Brown has been nonexistent in the playoffs, without a single red-zone target and averaging only 25 yards per game. However, during the regular season Brown commanded a 28.7% target share (fourth in the NFL) and a 38.4% air yard share for the Eagles and he averaged 88 receiving yards per game.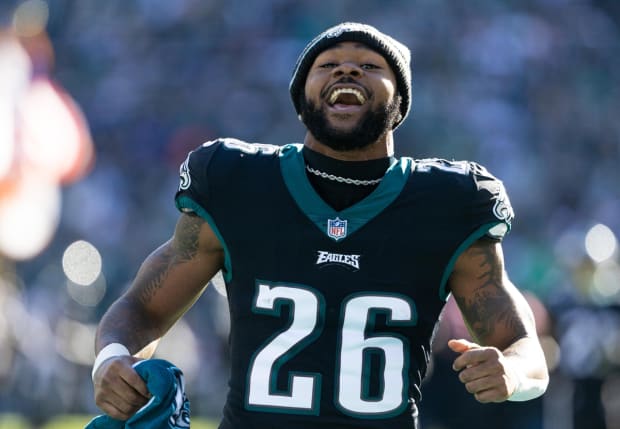 Mid-Tier Options
RB Miles Sanders, Eagles: Sanders had two TDs in the NFC championship game and his 13 total TDS are second only to Jalen Hurts for Philadelphia. Yes, the Chiefs allowed only 10 rushing TDs (fifth), and Kenneth Gainwell has been gaining more carries, but I wouldn't be quick to fade Sanders.
RB Jerick McKinnon, Chiefs: If Mahomes is down pass catchers, this could be a good play. McKinnon has not been an efficient runner this year and he's been pretty quiet in the postseason, but McKinnon scored a TD in each of the last six games of the regular season, with nine of his 10 total TDs for the year coming in that six-game span.
RB Isaiah Pacheco, Chiefs: Pacheco has taken over the backfield for Kansas City in the postseason, averaging 5.51 yards per attempt and 11 attempts per game. He looks great -- only trouble is, the Chiefs have yet to score a rushing TD in the postseason, and Pacheco only has five rushing TDs in 19 games played this year. Maybe he's due.
TE Dallas Goedert, Eagles: The Chiefs allowed the fifth-most TDs to the TE positions during the regular season, and Goedert is second only to Kelce with 58.5 yards per game this season. He's had a 42.9% share of the red-zone targets in the postseason, and he leads all Eagles pass catchers with 10 receptions in the postseason.
Value-Tier Options
RB Kenneth Gainwell, Eagles: Though he hasn't scored a TD this postseason, his carries have been increasing and he has led Eagles runners with the most ground yards in each postseason game. His 28.6% red-zone target share in the postseason is tied with DeVonta Smith for second behind Dallas Goedert.
K Harrison Butker, Chiefs: Butker has scored 20 points for the Chiefs in the postseason. He has a big leg and hit one from 62 yards out this season. If the Philadelphia defense does its job, we could see a little more of Butker on Sunday.
Eagles Defense: Yep. I'm playing a defense. The Eagles were tied for fourth with 27 takeaways and 17 interceptions during the regular season. Mahomes is slightly hobbled, and the Eagles pressured the opposing QB a league-leading 25.6% of the time this season. Yes, the game total is high, but I love this value. I will be using the Eagles defense in the MVP spot for at least one tournament.
WR Justin Watson, Chiefs: There's always one random guy that catches a TD, right? With the health of the K.C. receiving corps in question, Watson could easily be that guy, and he's practically free.